–News Direct–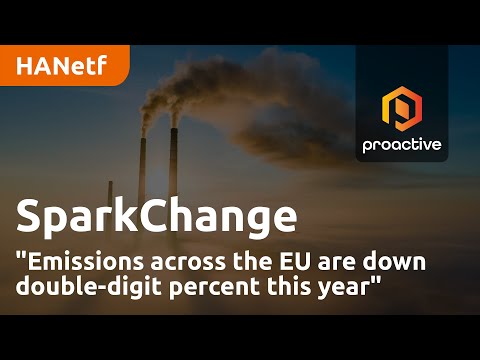 SparkChange head of sales Billal Ismail provides Thomas Warner from Proactive London with some valuable insights into the volatile dynamics of EU carbon allowances over the past few months.
The discussion covers the fundamental factors influencing the carbon market and the role of investor positioning in shaping its trajectory. Ismail begins by highlighting the sluggish nature of EU carbon markets fundamentals. Economic output in the EU has been soft for various reasons, while a substantial share of energy production has shifted towards renewable sources like wind and solar, resulting in reduced emissions.
He says the demand-supply balance has tilted towards a bearish scenario, with emissions down by a double-digit percentage. Despite the subdued fundamentals, carbon prices have maintained relative stability, hovering between 80-90/t, occasionally dipping into the high 70s.
Ismail says consensus forecasts for EUA prices in the near term have already adjusted downward, and investment funds have built up the largest net short position on record.
The discussion then turns towards the seasonality of the carbon market and the unique challenges it presents. Ismail notes the rarity of investors carrying significant net short positions into the year-end period, emphasising that a short squeeze could lead to a substantial price spike.
In addressing a final question about carbon emissions, Ismail acknowledged the positive impact of the European Union Emissions Trading System (EU ETS) in achieving emission reduction goals. He emphasises the role of both structural and cyclical elements in this progress, with renewable energy capacity contributing to structural change, while economic factors influence cyclical trends.
Contact Details
Proactive UK Ltd
+44 20 7989 0813
View source version on newsdirect.com: https://newsdirect.com/news/emissions-across-the-eu-are-down-double-digit-percent-this-year-sparkchange-278856638
HANetf Holdings Limited
COMTEX_443574654/2655/2023-11-16T14:24:58
Post Disclaimer
Disclaimer: The views, suggestions, and opinions expressed here are the sole responsibility of the experts. No Article Gaze journalist was involved in the writing and production of this article.